HELP
Map Navigation
1. Zoom In
Select the "Zoom In" bottom then click on the map to create a boxed area to be zoomed in, or

Use the scroll wheel on your mouse to zoom in.
2. Zoom Out
Select the "Zoom Out" button then click on the map to create a boxed area to be zoomed out, or

Use the scroll wheel on your mouse to zoom out.
3. Full Zoom
Zooms out to the full extent on the map.
4. Prev Zoom
Reverts back to the previous map position.
5. Next Zoom
Reverts to last map position.
6. Pan
Click on the map, hold down the button and drag your map to a different location.
Tollway Information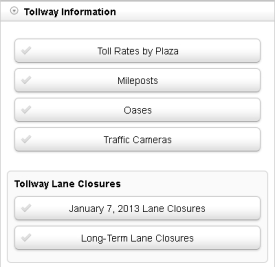 Traffic Cameras
The Illinois Tollway Virtual Map allows customer to select from 15 camera locations throughout the Illinois Tollway system and view current roadway images. Most cameras offer customers multiple roadway views for each location.
Click on the "Traffic Cameras" button located in the left navigation bar on this page to identify camera locations.
Camera images are uploaded approximately every five minutes, and viewers must refresh the page to view updates. Image quality is dependent on weather conditions.
Trip Calculator
* Please note: Trip routes generated using the Illinois Tollway Virtual Map are programmed to designate the Illinois Tollway (roadways) as the primary route. If you are using the Trip Calculator drop-down menu and your trip involves a combination of Tollway and state or local roads, you will need to set up each Tollway leg as a separate route in order to determine the total toll amounts.
If you are using the Trip Calculator to determine toll amounts or locations to make an unpaid toll payment, make a note of the toll plaza names and numbers along your route and then click the "Pay Unpaid Tolls Online" button to the left of the map.
Legal Disclaimer
This toll calculator is intended for informational purposes only. The results of your inquiry represent the anticipated tolls you will be required to pay based upon the information you supplied. While every attempt has been made to ensure that these results are accurate and reliable, the Illinois Tollway recognizes that human and/or mechanical errors are possible. Accordingly, the Illinois Tollway, on its own behalf and on behalf of its employees, officer and agents makes no representation as to the accuracy, completeness or suitability of the information provided herein and denies any express or implied warranty of the same.